Letterhead Design
$200
Work with our team of talented graphic designers & illustrators to develop a letterhead design you'll love.
Professional Designers
3 Concepts
3 Revisions Rounds
Transfer of Copyright
Deliverables
.AI source file, editable .DOCX & print-ready .PDF
"Love everything about this company and their service. Exactly what I was looking for. I love their speedy responses and their designs are right on target. They make it easy to get all the design work I need done."

Diane L. - Pinnacle Access Solutions
"Spark was the best choice possible for our company's image. Excellent communication, friendly service, and an extremely professional process from beginning to end. Highly recommended!"

Amir M. - Rug Service Center
"Amazing experience. They ask the right questions to achieve the right design. Had a great experience, and will use them again!"

Karen H. - Your Sorted Life
"The designs they created absolutely blew me away! There is nothing negative I can really say about my experience. They finished the design quickly, were a great value for the money, and their work came out amazing! "

Trevor H. - Hooge Health
Timeline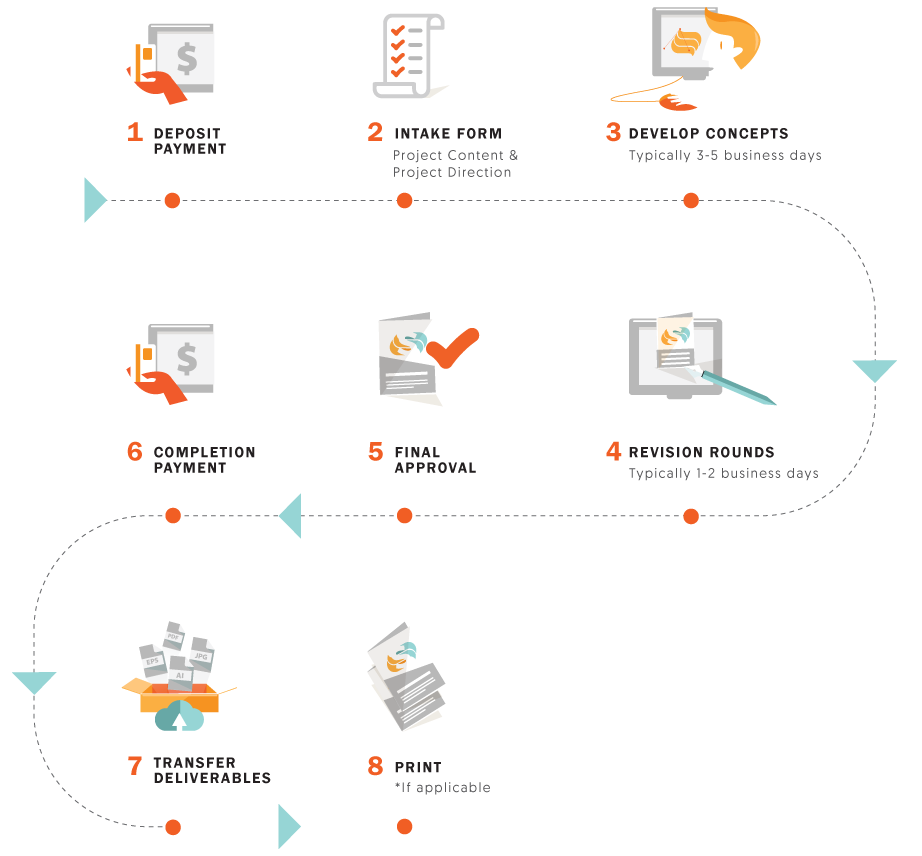 Q: What deliverable files will I receive for my letterhead?
A: Each Letterhead Design purchase comes with one deliverable set. The deliverable set is based on one selected design in the following file formats: .AI source file, editable .DOCX with 8.5" x 11" dimensions and 0.5" margins on all sides, and print-ready .PDF based on standard print specifications for 8.5" x 11" letterhead with 0.0625″ bleed on all sides
Q: When does the project officially start?
A: A project start date is the first business day after we have received the deposit payment, the project content, and the project direction. You will receive an email confirmation with the project start date and projected delivery date for your concepts.
Q: What does project content mean?
A: The project content is the text copy that you wish incorporated into the design concepts, and any imagery that you wish to provide. The client is responsible to provide and approve all content.
Q: What does project direction mean?
A: The project direction is any instructions, samples, specifications or details that you want us to factor into the development of your concepts.
Q: What is a concept?
A: A concept is a unique design proposed for your letterhead.
Q: How long does it take to receive my letterhead design concepts?
A: Typically, you will receive your concept presentation within 4-5 business days after your project start date. If you purchase our rush fee, we will deliver the presentation within 2-3 business days.
Q: What happens after I receive my concept presentation?
A: Once you have received the concept presentation there are four available options on how to proceed:
1) Select a concept and approve as final
2) Select a concept and request revisions
3) Purchase additional concepts
4) Cancel the project
Q: How long does a revision request take to complete?
A: Revision requests are typically completed in 1-2 business days.
Q: What constitutes a valid revision request?
A: A valid revision request must be specific on the changes required and the changes must not constitute the creation of a new concept. Spark reserves the right to require clarification and/or reject any revision request that does not meet the requirements expressed above.
Q: How does Satisfaction Guarantee work?
A: We require a 50% non-refundable deposit to initiate a project. The completion payment is only due once you have approved the final design. You may cancel the project at any time and are not obligated to make the completion payment.
Q: Will I have full ownership of the final design?
A: Yes, the set of deliverables contains a Transfer of Copyright agreement. Unless otherwise agreed, we reserve the right to showcase the final designs in our portfolio, and in any number of online galleries & portfolios, as well as in printed literature.

We only require a 50% deposit to initiate the project. If you are not satisfied for any reason, you may cancel the project at any time and are not obligated to make the completion payment.
Do you have questions about our services or want to discuss the details of your project with one of our design consultants? We would love to hear from you.