"Spark was the best choice possible for our company's image. Excellent communication, friendly service, and an extremely professional process from beginning to end. They made sure everything was well presented to us and was ready to make any changes we requested immediately. They also gave insightful information to help us get exactly what we wanted before we knew what we wanted ourselves. Highly recommended!"

Amir M. - Rug Service Center
"Honestly a great business to work with. They really listened to our needs and wants. They also helped with multiple revisions and understood the small changes we were looking for. They were so friendly and the questionnaire they have you fill out really helps to pinpoint your desires. I plan to go through Spark again for additional needs."

Corinne P. - Pratt Brewing Co.
"Love everything about this company and their service. Exactly what I was looking for. I love their speedy responses and their designs are right on target. They make it easy to get all the design work I need done."

Diane L. - Pinnacle Access Solutions
"The designs they created absolutely blew me away! There is nothing negative I can really say about my experience. They finished the design quickly, were a great value for the money, and their work came out amazing! 100% will be using them again in the future!"

Trevor H. - Hooge Health
"I don't write a lot of reviews, but these guys exceeded my expectations by a mile. Work quality and communication were next level. If you need a logo made, hire them now! I promise that you won't regret it."

Kerrick W. - Kerrick Williams Life Coaching
Timeline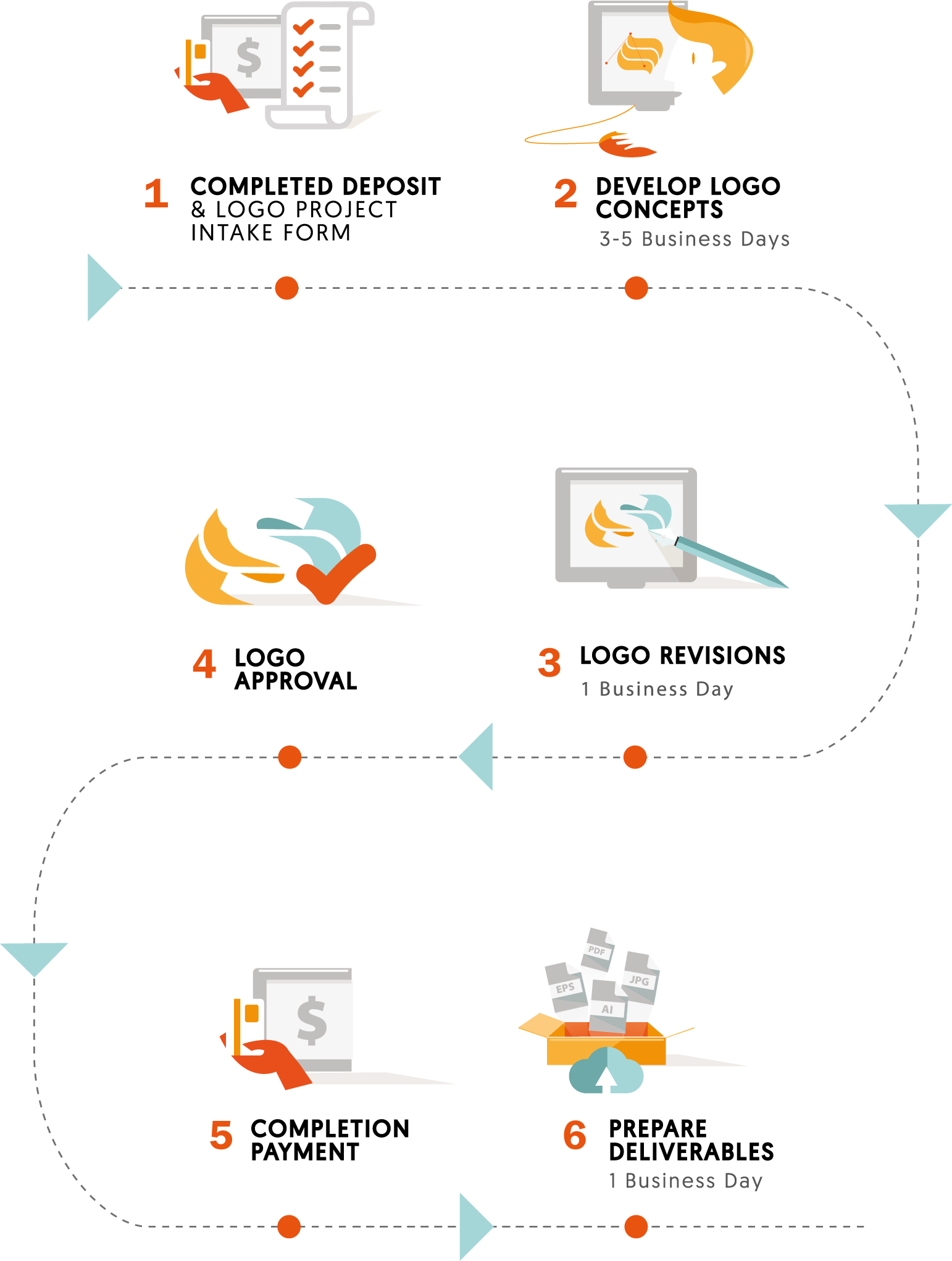 Q: What deliverable files will I receive for my logo?
A: Each Logo Design Project purchase comes with one extensive set of deliverables. The set is based on one selected design, in one layout, and includes the following file formats provided in primary color, alternate color, white on black, and black on white: .AI, .EPS, .JPG, .PDF, .PNG, and .SVG. You will also receive a logo presentation with font and color information and a Transfer of Copyright document.
Q: What is an illustrated logo?
A: Illustrated logo design requires specific design skills and additional time to execute, therefore we charge more for this type of project. Above is our portfolio with logos that demonstrates examples of designs that are considered detailed illustrations.
Q: What is a concept?
A: A concept is a unique design proposed for your logo. Each page of your concept presentation represents one concept presented in 4 different color schemes.
Q: When does a logo design project officially start?
A: The project start date is the first business day after both the deposit payment and completed intake have been received. For an intake to be completed, all of the required sections of the form must be completed or a representative must otherwise indicate that the intake has been completed. You will receive an email confirmation with the project start date.
Q: How long does it take to receive my logo design concepts?
A: Typically, you will receive your concept presentation within 4-5 business days after your project start date. If you purchase our rush fee, we will deliver the presentation within 2-3 business days.
Q: What happens after I receive my concept presentation?
A: Once you have received the concept presentation there are four available options on how to proceed:
1) Select a concept and approve as final
2) Select a concept and request revisions
3) Purchase additional concepts
4) Cancel the project
Q: How long do logo project revision requests take to complete?
A: Revision requests are typically completed by the end of the next business day.
Q: What constitutes a valid revision request?
A: A valid revision request must be specific on the changes required and the changes must not constitute the creation of a new concept. Spark reserves the right to require clarification and/or reject any revision request that does not meet the requirements expressed above.
Q: How long does it take to get my logo project deliverables once I have made completion payment?
A: Deliverables are typically prepared and transferred within 1 business day.
Q: How does Satisfaction Guarantee work?
A: We require a 50% non-refundable deposit to initiate a project. The completion payment is only due once you have approved the final design. You may cancel the project at any time and are not obligated to make the completion payment.
Q: Will I have full ownership of the final design?
A: Yes, the set of deliverables contains a Transfer of Copyright agreement. Unless otherwise agreed, we reserve the right to showcase the final designs in our portfolio, and in any number of online galleries & portfolios, as well as in printed literature.
Let Us Create a Logo You Will